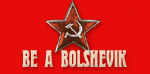 Donate - help our new project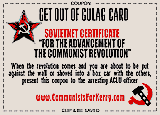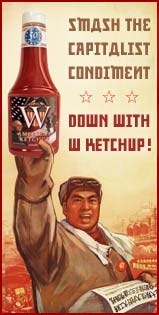 Winner of the competition of "Prettier Motherland Pages, for a Prettier Sovietnet!"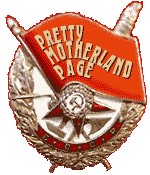 The Politburo "Award for Excellence in Socialist Webdesign in the Youth Collective" is a worldwide recognized symbol of quality for extremely advanced and progressive websites in the Sovietnet of the brother countries of the Comecon (Communist Economies)

Washington Post
By KommanderDjin
08/30/04 - 4:11 pm
By KommanderDjin
10/04/04 - 2:00 pm
By Hugh Janus
10/04/04 - 3:31 pm

Thats because in reporting it, FoxNews did no background investigation into you guys, but took you at your word that you were an honest-to-goodness Communist AND pro-Kerry organization, which makes them, as I have pointed out, as intellectually lazy as CBS. Conversely, WashPost did not assert that you were legitimate, so its an entirely different context. WashPost even said that Kerry "might prefer to eschew" you guys (you could hardly blame him). There, now arent you glad I took the time to explain it to you? No need to thank me.

By KommanderDjin
10/04/04 - 3:36 pm

I do not see any irony or realization of comedy in WaPo's article. It clearly wanted to note that communists were in the march, and also noting that it would not look good for Kerry for him to have any association with them. Also, WaPo failed to count properly, since there were about a dozen of us there.
I am not defending FoxNews. I don't watch it, just like I don't watch the rest of television. They did make a mistake, but WaPo made the same mistake. We had signs and tshirts with our URL on them, but WaPo did not check up on that to see who we are.
I require no thanks for this rebuttal either.

By Hugh Janus
10/04/04 - 4:05 pm

So, because WaPo did not specifically explain how you guys are a gag, that makes their one sentence mention of you equal to FoxNews's multiple paragraphs and on-air mention? Though WaPo did not "realize comedy" as you suggest, they certainly did not suggest that you were to be taken seriously, which FNC did by maintaining your assertion that you are legit. Do you seriously just not get my point or do I need to elucidate further?

By KommanderDjin
10/04/04 - 4:23 pm

First of all, what on-air mention are you talking about? I have not heard of any.
Yes, actually, it seems like WaPo made the exact same mistake as FoxNews. The length of the reference is irrelevant. WaPo did think we were serious, or it would have made a comment to make it clear that we weren't. Actually, unlike FoxNews, WaPo made a statement of political judgement, realizing this is not necessarily helpful to Kerry's campaign.

By Hugh Janus
10/04/04 - 5:06 pm

Hmm, that may be my bad actually, I might have confused the CFK thing with the Carl Cameron quotes that he made up to make Kerry seem like an effiminate metrosexual. Two incidents of lazy reporting in 48 hours... who woulda guessed, right?
Anyways, I dont think WaPo intended for you guys to be taken seriously, or they would've given you more than one sentence. All we have to go on is what they said about you in that sentence, which amounts to your organizations name (which most people, outside FNC, would not take seriously at face value) your "France first!" platform (which people would also be unlikely to take seriously) minimizing your presence (saying there were four when you maintain twelve) and suggesting that Kerry would do well to distance himself from you. I fail to see how you can read that and think that WaPo is taking you, or suggests you should be taken, seriously. Fox on the other hand decides to take you at your word that you are legit (though I see now that the article has been amended) and suggests as much to its readers.

By Komrad Felipe
10/05/04 - 12:44 am

The Gulag for Anus

By Calmypal
10/05/04 - 9:56 am

The Fox reporter asked Komsomolets Rob if they were serious multiple times. When the Washington Post wrote that Kerry would probably rather eschew them from his following, that implies they are in his following.

By John Kerry Marx
10/22/04 - 9:27 pm

Shame on WaPo. They fail to understand the revolution. We must demolish the capitalist media. We should control the media and we will.

By NatashahatesBushwinkle
10/26/04 - 5:28 pm

What? We aren't serious, darlinks? What am I going to do with all these military pillows I made? And what of the Kotlety Pozharskie, Selyodka pod Shouboy, Cheboureki, Beef Stroganov, Vareniky and red Caviar I was planning for November 3rd?

Please, don't break this good communist girl's heart, darlinks, with this nonsense talk!

You know the WAaaaaaPoooop oops my keyboard got stuck, darlinks! The WAPO knows we are Kerry's secret weapon. They do not want to frighten away the "undecided" morons ... oops I mean voters so they are keeping our activities on the QT.

Viva La Revolucion!

By NatashahatesBushwinkle
10/26/04 - 5:29 pm

Almost forgot, darlinks! Sweet, yummy Moscow Ponchikis for everyone on November 3rd!

Page 1 of 1
Powered by

We've run into expenses building this site and spreading havoc on Union Square and beyond. If you like what you see, click below and donate a buck or two for the revolution!

---
Komrads who have paid for @CommunistsForKerry.com
email address can sign in here:



Komrads who want to obtain @CommunistsForKerry.com address click here



---

---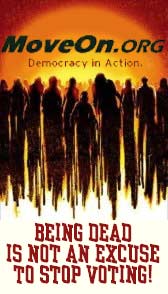 ---
Awards and medals
earned by our youth collective for this website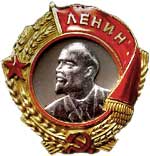 Recipients of
Order of Lenin
for heroic service to the Revolution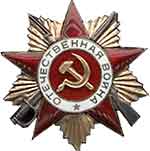 Recipients of
Order of the Great Patriotic War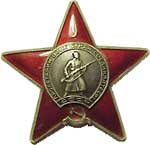 Recipients of
Order of the Red Star